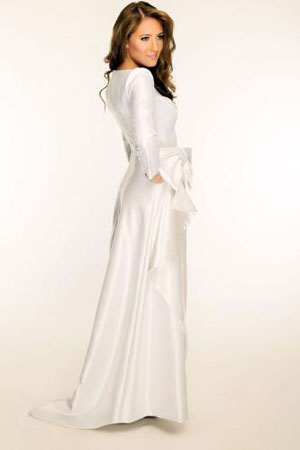 Stasia Modest Couture offers brides a modest alternative to current bridal trends with gowns starting at $1000.
Stasia Modest Couture (StasiaBridal.com) announces the introduction of the $1000 custom made to fit modest wedding gown made in Chicago, Illinois and ready to wear within 8 weeks of ordering. Since the opening in August of 2013, brides have been able to create their own wedding dress with over 10,000 unique combinations of wedding dress features including sleeves, bodices, and skirts. This has given all brides seeking more modest options a wider range of choices at an affordable price.
STASIA was started as a solution to the problem that Anna Steinberg, the founder and CEO, experienced while searching for her own wedding gown in 2011. "I was shocked to realize that there were no existing bridal lines or boutiques that exclusively catered to the needs of women searching for a modest gown. Until now, brides had to shop primarily in religious areas such as NYC and Utah to find a gown or buy one and go through the hassle of building it up." She explored the possibility of buying a dress online from an overseas company but decided against it due to her worry over the quality of materials and workmanship. With the founding of Stasia, Anna has solved all of these problems and hopes no bride ever has to go through the worry and trouble she went through.
By bringing production back to the United States and using American designers to craft the wedding dress from ground up, Stasia is able assure that the quality and delivery time of their dresses exceeds that of many well known bridal names.
Sizing Guarantee: The "Perfect Fit Process" includes taking 12 measurements adjust the design to fit bride. Ordering online is simplified with the choice of an video tutorial and visual guides or the reimbursement of a tailoring measuring fee up to $20. A mockup of the dress is then sent out within a week before production of the dress is started to confirm sizing. Delivery Guarantee: Within 8 weeks of ordering the selected gown either online or at the boutique, Stasia guarantees the delivery of the gown. Since the gown is custom made, there is no waiting for a large batch order to be made or trying to get it through customs. It is made as soon as the mockup is returned.
The pricing for the gowns has been arranged with every bride's budget in mind. There are two lines from which to choose. Custom made gowns start at $1000. The handmade Signature Couture Collection begins at $3000.