The 46th edition of Hong Kong Fashion Week for Fall/Winter and the 13th edition of World Boutique, Hong Kong organised by the Hong Kong Trade Development Council (HKTDC) will be held from 19-22 January. Sharing the rich fashion ambience with the public this month, the HKTDC is organising "Hong Kong in Fashion", a citywide promotional campaign from 8-22 January. Under the theme "Light Me Up", the HKTDC is teaming up with renowned fashion labels, beauty stores, shopping malls, cafes and restaurants to present more than 60 activities and promote fashion initiatives in over 180 stores and outlets.
"Hong Kong in Fashion" will be held at various fashion hotspots across Hong Kong, including Fashion Walk and Times Square in Causeway Bay and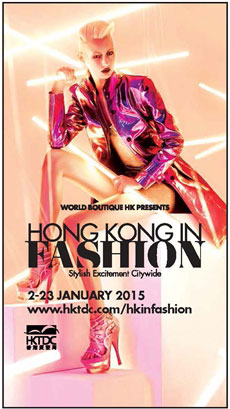 Harbour City in Tsim Sha Tsui. The activities include: a Fashion Carnival; a sharing session by Hong Kong Fashion Extravaganza designer duo Eri Chu and Philip Chu of Ground-Zero; make-up demonstration; fashion accessories DIY and image styling workshops; and a series of fashion parades. The HKTDC is also partnering with W Hong Kong to present a luxury set menu that combines high fashion with fine dining at Sing Yin Cantonese Dining.
Some of the participating shops will also give out tickets to the Hong Kong Fashion Extravaganza and the Shanghai Tang House Show held during World Boutique, Hong Kong.
Street Snap Competition
The popular Street Snap Competition returns this year. From now until 22 January, the public can enter the competition for a chance to win prizes worth over HK$100,000. Participants simply upload a personal snapshot in a chic outfit on the "Hong Kong in Fashion" website or via Instagram (#HKinfashion) and share it on Facebook. The entry with the most "likes" will win prizes that include one night Full Moon Premier with champagne arrival at the Mira Moon Hotel. Other prizes include Zalora cash coupon and i.t fashion accessories.
Light Me Up Fashion Carnival
Fashion Walk in Causeway Bay has long been home to fashion intelligence. For the first time this year, the HKTDC is partnering with Fashion Walk to organise a Fashion Carnival in the run up to Fashion Week. The "Light Me Up Fashion Carnival" at Fashion Walk Food Street starts on 8 January. On the following two weekends, the public will be able to participate in a series of free glowing activities: neon art party, stall games, dance performance, music performance, neon make-up and fashion accessories DIY workshops. The designers' collection from "Hong Kong Fashion Extravaganza 2015 Presented by Audi Hong Kong" and "Light Me Up" outfits will be on display at Food Street. In addition, the HKTDC will host a Fashion Parade on 8 January at Food Street, showcasing some of the latest designs by international and local labels.
Stage For Glamour
From 8-22 January, a "Stage of Glamour" Fashion Display will be held at the exhibition hall on the ground floor of Times Square in Causeway Bay. A series of videos will showcase the designs of the exhibitors of World Boutique, Hong Kong. There will be free image styling and professional photography services – a perfect opportunity for Street Snap Competition participants to spice up their images. Free photo souvenirs will be available. A "Light Me Up" Style Projection Game, with an interactive light installation, will project personalised images to match the participant's personal style.
M.A.C On Trend Demonstration
Chic fashion is often accentuated by the latest make-up style. M.A.C Hong Kong Senior Artist Ryuko Lau will conduct a make-up demonstration at Lab Concept M.A.C Counter in Admiralty on 9 January, giving a preview of the make-up trends for the collections of Hong Kong Fashion Extravaganza designers.
Family Fun
The children's fashion show at Harbour City will be an excellent occasion for some stylish parent-child bonding. Activities include the Baby Fashion Extravaganza on 11 January and multiple styling demonstrations.
Coffee Meets Fashion
On 15 January, the HKTDC will again partner with Pacific Coffee to host the "Coffee x Fashion" Clutch DIY Workshop at the Pacific Coffee Emporium in Causeway Bay. This year, the HKTDC has invited professional artist to share tips on clutch design with fashionistas and coffee lovers. They will also discuss ways to infuse unique design elements into clutch items.
Taste Of Style
Inspired by the theme of "Light Me Up" and the designers' collections of Hong Kong Fashion Extravaganza 2015, the HKTDC and W Hong Kong will celebrate the upcoming fashion trends with a stylish Chinese set menu at Sing Yin Cantonese Dining. W Hong Kong Executive Chinese Chef Raymond Wong has created a set of four dishes: Poached mixed asparagus stuffed with bamboo pith in black truffle, inspired by Hong Kong designers Eri Chu and Philip Chu; Sautéed lobster balls in XO sauce with baguette, inspired by New York designer Loris Diran; Sautéed diced Wagyu beef with green apple in mustard sauce, inspired by Swedish designer Lars Wallin; and Marinated South African fresh abalone, inspired by Beijing designer Wang Yutao and W Beijing. Each dish will be embellished with seasonal edible flowers, giving diners a taste of luxury with a touch of spring. The public can enjoy the menu from 19 January to 16 February.