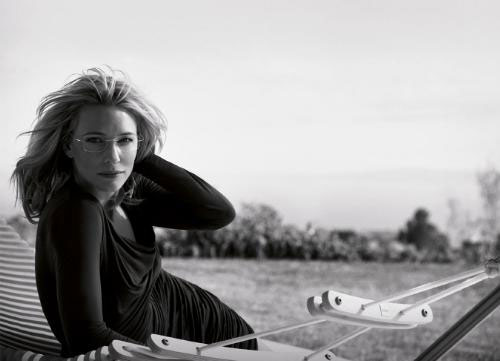 Silhouette, the iconic eyewear brand renowned for its premium lightweight eyewear, proudly announces style icon Cate Blanchett as the face of its ICON FOR AN ICON campaign. Shot by the legendary Peter Lindbergh on location in Hollywood, this campaign showcases Blanchett in Silhouette's rimless TITAN MINIMAL ART glasses and sunglasses, bringing together two uniquely purist and effortlessly stylish forces.
Blanchett — celebrated for her simply chic, functional and timeless aesthetic — embodies Silhouette's qualities of subtlety, elegance and sophistication, making her a natural choice for the brand. Says Arnold Schmied, Co-owner of Silhouette International, "We greatly admire Cate's authenticity, and that's what we've aimed to capture in this shoot. The rimless aesthetic of TITAN MINIMAL ART allows her to shine through, without distraction or obstruction, so you are able to see her as she really is."
Says Lindbergh: "Cate is always herself, and that comes through in the pictures. She is such a genuine person and great to photograph."
With a sleek, monochrome, modern look, the photographs highlight the state of the art design and materials. TITAN MINIMAL ART is crafted from super lightweight titanium, a flexible space-age material, with tapered and hypoallergenic — and now longer — temple ends handcrafted with Silhouette proprietary materials that feel smooth to the touch but grip effortlessly during activity. The sunglass lenses, with a trademark unrestricted view, provide 100% protection against UVA, B and C rays, are anti-reflective, and can be polarized or even made prescription. Moreover, all lens shapes can be customized to suit the face of the wearer, as Silhouette did for Cate's bespoke eyewear.
TITAN MINIMAL ART demonstrates Silhouette's commitment to a rimless aesthetic, minimalist styling and lightweight design: FEEL LITE. SHOW STYLE. The ICON campaign, launching in March 2014, will appear around the world in top print and outdoor media and Fine Optical Shops Worldwide.