Elise Compson, the founder and designer behind "By Elise", the handmade designer pearl jewellery company specialising in baroque pearls announces the launch of her Spring/Summer 11 Collection of Earrings.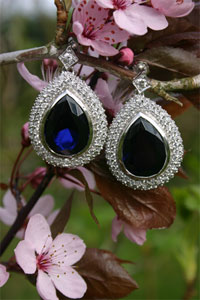 In the new season she has extended her range of earrings to incorporate the latest vibrant colours with the classic clean lines of her trademark baroque pearl jewellery into a range of individually designed fashion accessories. The Spring/Summer collection is perfect for the catwalk, day and evening wear. The range allows a number of options for the Bride as well as one pair having been sourced specifically with the Royal Wedding in mind.
Elise comments " Integrating the clarity and clean lines of my jewellery into designing fashion accessories brings a new dimension to statement jewellery. The pleasure these pieces have given our customers both here in the UK and abroad has been an inspiration."
Biography
Elise Compson launched her jewellery brand "By Elise" in 2002 from her showroom followed by her online store in 2008. In 2010 she launched her wholesale range "The Collection By Elise" and is gaining an enviable reputation for her baroque freshwater pearl jewellery Pearls are at the heart of the By Elise, it is their beauty and versatility which have been the inspiration for Elise's collections and have resulted in such critical acclaim in recent years.
Her designs incorporate style, glamour and originality and it is central to Elise's ethos that the pieces are created and hand-knotted here in the UK. The pearl jewellery is classic but with a contemporary twist and always timeless reflecting the individuality of the wearer.