GROUND-ZERO showed their first ready to wear catwalk show at the beautiful Pavillon Wagram, during the most anticipated schedule of Paris Fashion Week.
This fantastic opportunity has strengthened the determination and desire to this SS13 collection that defines GROUND-ZERO, titled 'She's Electric.'
GROUND-ZERO founded by brothers, Eri and Philip Chu. The young designers began their journey in London, and started experimenting with graphics and fashion. They have made their mark in the world of graphic prints; their signature approach applies humour onto our favourite characters and creates new perspectives by crossing every borderline.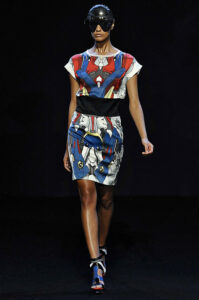 This collection is generated from surrounding robots, finding the rare quality in such a male dominant territory. SS13 brings you the perfect balance of femininity in armoury.
The soft silhouettes are enhanced by the touch of fragility in the fabrics chosen for this season, where various weights of silks are complimented by the structure of organza and the drape from chiffon.
Pastel pinks, blues and yellows are the new metals, powered alongside bold shades, prints and outlines. The raw elements are in the details of the garments, in different parts of the collection, intricate lace can be seen, beautiful embroidery can be found and golden bear studs can be traced.
This season, GROUND-ZERO develops their strengths to form new cuts and prints that are combined to be their ultimate weapon.