Britain's Top Designer is a cutting edge fashion designer competition that aims to find the best designer in Britain.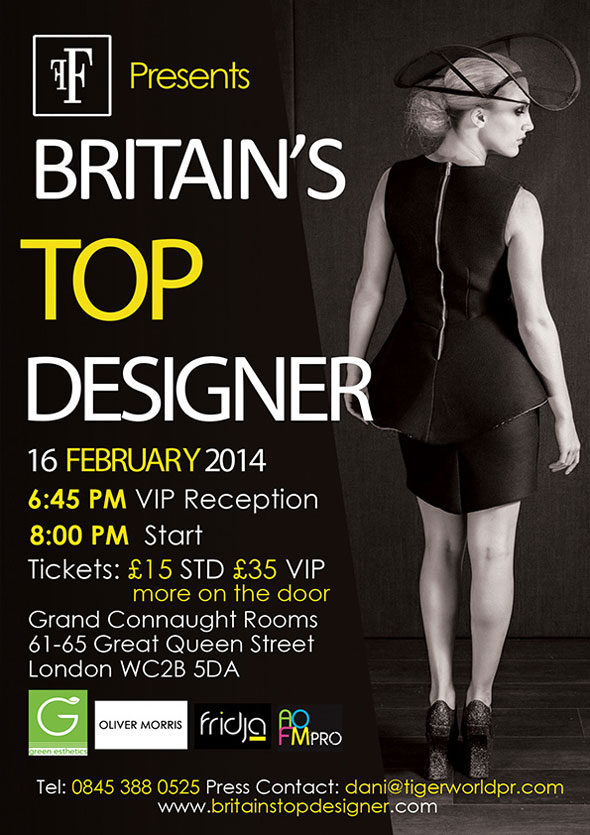 Organised by Fashions Finest a leading fashion and entertainment lifestyle magazine and multi award winning Fashion event company, who provide professional production & management of catwalk shows, award ceremonies and launches for a wide variety of UK and international clients.
Fashions Finest are committed to supporting up and coming talent from diverse backgrounds and appreciate new and innovative ideas that pioneer and reflect the climate. With this in mind our desire is to make a unique and positive contribution through Fashion design to the ever changing world and society within it.
This competition is open to all types of designers, graduates, new, aspiring, emerging and established based in the UK.
The prizes are going to be absolutely fantastic and just being a part of this could take your career to another level.
KEY DATES:
FINAL: Sunday 16th February 2014
VENUE: Grand Connought Rooms, 61 – 65 Great Queen Street, London
TIME: 6.45pm VIP Receptiom
8.00pm Start
THE JUDGES:
Yemi Osunkoya – Creative Director Kosibah
Sonia Mufano – Top International Stylist
Chloe Dolloway – Paul Smith
Matthew O'Brien – 2012 Winner
"Fashion is not something that exists in dresses only. Fashion is in the sky, in the street, fashion has to do with ideas, the way we live, what is happening." – Coco Chanel
For more information, and to RSVP, please contact: