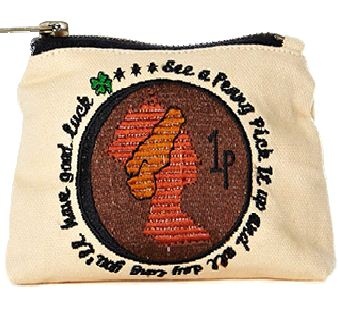 With the recession biting hard and days until the next wage packet, saving pennies current trend and you can do it in style with the Sew Lomax delightful Embroidered Penny Purse.
Fully lined with a unique Sew Lomax print design and secured with a metal zip closure, this hand-embroidered 'A penny for your thoughts' purse is a whimsical yet practical item and makes saving those pennies a little more enjoyable!
Sew Lomax offers a full range of enchanting, embroidered designs which make fabulous gifts or a perfect personal treat. The products are appealing, ageless and timeless and the range includes make-up bags, wash bags, shopping totes. Each piece is designed in London, lovingly finished by hand using sustainable materials which are sourced in the UK and features a unique, embroidered design.is all available to buy on the brands website. www.sewlomax.com
Sew Lomax was established skilfully crafted products. Emma explains "For me, creating and making is my coming home, I am filled with excitement when I find just the right fabric or catch sight of rows of beautiful wools, silks and cotton. Even discovering an old bobbin or button fills me with butterflies and glee in anticipation at what can be created from these often discarded items."
Sew Lomax bags are fun, stylish and offer unique and creative ways to organise your day.
The brand is already drawing interest from UK and International press and buyers and with new designs being regularly added to the range market over the next few seasons.
The Sew Lomax web shop is also now open for business see the full product range.