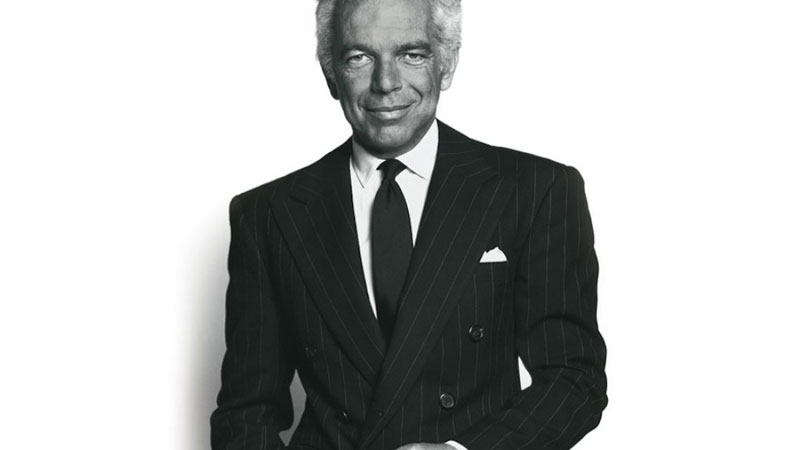 The British Fashion Council announced that Ralph Lauren will receive the Outstanding Achievement Award in Fashion at The Fashion Awards 2016 in partnership with Swarovski. The designer will be honoured for his invaluable contribution to the fashion industry on Monday 5th December at the Royal Albert Hall in London.
Ralph Lauren to be honoured with Outstanding Achievement Award
Over the past 50 years, Ralph Lauren and his iconic brand have helped shape and define the American fashion identity in a unique and resonant way. Through his tireless commitment to design, innovation, business and philanthropy, Ralph Lauren has established himself as a pillar of the global fashion community.
Ralph Lauren introduced his tie and menswear business in 1967, and only five years later was presenting a full line of Polo by Ralph Lauren menswear at New York Fashion Week in 1972, the same year he launched a womenswear line. The Ralph Lauren family of brands has since shaped the contemporary image of quintessential Americana, encompassing Lauren's realisation of an aspirational lifestyle with glamour, sophistication and integrity. With campaigns shot by long-term collaborators like Bruce Weber, Shelia Metzner, Mark Seliger and Stephen Meisel, the Ralph Lauren brand has cemented a visual heritage that is instantly recognisable and rightly celebrated.
Since the creation of the classic polo shirt, American athletic excellence has become synonymous with Ralph Lauren, and the brand has gone on to outfit some of the nation's most successful sportsmen and women. Ralph Lauren serves as the proud Official Outfitter of the U.S. Olympic and Paralympic Teams, an Official Outfitter of the United States Golf Association and the U.S. Open Championship; an Official Outfitter of the PGA of America, PGA Championship and U.S. Ryder Cup Team; an Official Outfitter of the US Open Tennis Championships and the Wimbledon Championships.
Ralph Lauren has been responsible for countless cultural moments that have shaped the fashion world, from iconic and cinematic advertising imagery, early adoption and integration of technology, and a long-lasting romance with Hollywood's story-telling and glamour, from `Annie Hall's' endlessly imitated casual sophistication to the fairy-tale gown Gwyneth Paltrow wore to collect her Oscar.
As well as his creative brilliance and skill as a businessman, Lauren is a wonderfully generous philanthropist. Since co-founding the Nina Hyde Centre for Breast Cancer Research in 1989, Lauren has continued to support a multitude of worthy causes through the Polo Ralph Lauren Foundation. In 2000, the Ralph Lauren Corporation launched the Pink Pony Fund, later founding the Ralph Lauren Centre for Cancer Care in Harlem, New York, and The Ralph Lauren Centre for Breast Cancer Research at The Royal Marsden in London. Lauren established the American Heroes Fund to help with the relief effort following the Sept. 11, 2001, terrorist attacks, and he donated $13million towards preserving the original Star-Spangled Banner. This endless capacity for generosity is part of what makes Lauren such a beloved and respected figure in the fashion community, and is one of countless reasons he is to be honoured this year at the Fashion Awards.
Dame Natalie Massenet, Chairman British Fashion Council commented: "Ralph Lauren is an exemplary designer and businessman. He has helped to define an era in both American and global fashion with his singular vision; I know that most of us would say he has inspired us immeasurably. He has built an outstanding legacy and I look forward to celebrating him for years to come."
Previous winners of the Outstanding Achievement Award include: Karl Lagerfeld (2015), Anna Wintour OBE (2014), Terry and Tricia Jones (2013) and Manolo Blahnik CBE (2012).
The Fashion Awards 2016 will celebrate the best talent from the global fashion community and will be the inaugural annual fundraiser gala for the British Fashion Council Education Foundation charity. The Education Foundation offers scholarships to talented young people to study BAs and MAs and offers funding for apprenticeships to develop much needed industry skills. The British Fashion Council aims to raise £10million over the next ten years for the charity.