Celebrities, top models and the cream of the fashion industry to turn out in force for children's charity fundraiser, featuring a VIP fashion show co-hosted by fashion icon Sadie Frost.
LEADING names from the world of fashion have joined forces to create a two day extravaganza at London's stunning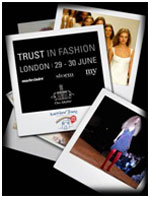 One Mayfair next month in aid of the much-loved children's charity Rainbow Trust.
Held over two days in June, the Trust in Fashion event is the first of its kind for the charity whose carers support families of children battling a life threatening or terminal illness.
Created in association with Marie Claire & Storm the two day spectacle includes a VIP evening on June 29th – featuring an exclusive catwalk show co-hosted by fashion icon Sadie Frost – followed by a sample sale on June 30th crammed full of top brands at amazing prices and attended by Storm's top model scouts searching for the next new face.
Speaking about the event, mother-of-four Sadie Frost said: "I am incredibly excited to be involved with this event and raising money for such a worthwhile cause.
"It has to be every parent's worst nightmare to find out their child is seriously ill and it is something most of us can't even begin to imagine, which must make fundraising for such causes really difficult, as many people just want to push it away.
"But the sad fact remains, some families are living this nightmare. What always strikes me is how many families helped by Rainbow say they don't know what they'd have done without them. The emotional and practical support offered is a lifeline to families in their darkest hours and while the charity helps around 1,000 families across England every year, I find it quite sad to learn this is just 10% of the families in need of such support. Given the resource Rainbow could help so many more and I am pleased to be part of an event aimed at raising funds for this charity which hopes one day all families in need will have access to a Rainbow carer."
The highlight of the VIP launch event will be a my-wardrobe.com catwalk show produced by Lesley Goring, with looks styled by Marie Claire Fashion Editors Holly Welch and Lucia Debrieux. Featuring models from the world famous Storm including Liberty Ross, the exclusive evening will be co-hosted by Sadie Frost and Marie Claire Editor in Chief, and Rainbow Trust Patron, Trish Halpin. Storm's own Bip Ling will also DJ at the event.
Speaking about why she decided to back the charity, which this year celebrates its 25th Anniversary, Trish said: "Like most people I support a number of charities, but Rainbow Trust is the first one I've ever become hands on with. Why? Because the work they do supporting families with sick children is simply immeasurable. As a mother of twins, I am very lucky never to have had to call on Rainbow's services, but there are plenty of families like mine that have. And sadly there are even more families that Rainbow could help, so every donation really does count."
The catwalk show will be followed by an exclusive auction of fashion pieces from some of the world's leading fashion houses, including couture dresses, bags, shoes and jewellery from the likes of Alexander McQueen, Manolo Blahnik, Mulberry, Christian Louboutin, Alberta Ferretti, Temperley London, Jenny Packham, Dior, Stella McCartney, Theo Fennell, Marni, Mulberry, Mary Katrantzou, Longchamp, Gucci and Erdem. Also up for auction are the two Reiss dresses made famous by Kate Middleton (the Nannette and the Shola), as well as items donated personally by Kate Moss and Lily Cole.
Sarah Doukas, founder of Storm, has also pledged full support of the event, with the agency adopting Rainbow Trust as one of their official charities this year.
The two day event will raise vital funds for the charity which provides a lifeline to families facing the unimaginable ordeal of caring for a child with a life threatening or terminal illness. Rainbow Trust's family support workers join families in their own homes to provide consistent, practical and emotional support during, what many Rainbow families describe as, their darkest hours. Rainbow carers are contactable 24 hours a day for families in crisis from diagnosis, through treatment and even after bereavement.
Ticket details
29th June – Fashion Show
VVIP tickets with dinner are £175pp (£1750 per table of 10). VIP tables are £100pp (£1000 per table of 10) and gallery tickets (Champagne & Canapes) are £50pp.
30th June – Fashion Sale
The sample sale features celebrity DJs, a cocktail bar, bespoke nail art by Boom Nails and model scouting by Storm. Brands donating to the sale include Reiss, Whistles, Topshop, Alexander McQueen, Chanel, Tom Ford, Jaeger, Benefit, Hummingbird Vintage, Whistles, Warehouse, Monsoon, Johnny loves Rosie, Fairground, Orion London, RetroSun, French Connection and Schuh.
Tickets prices are staggered throughout the day.
Entry before 11am: £8 (first pick of the sale)
Entry from 11am until 3pm: £5
Entry after 3pm: £2